We're Moving on After the Fire. You Can Help!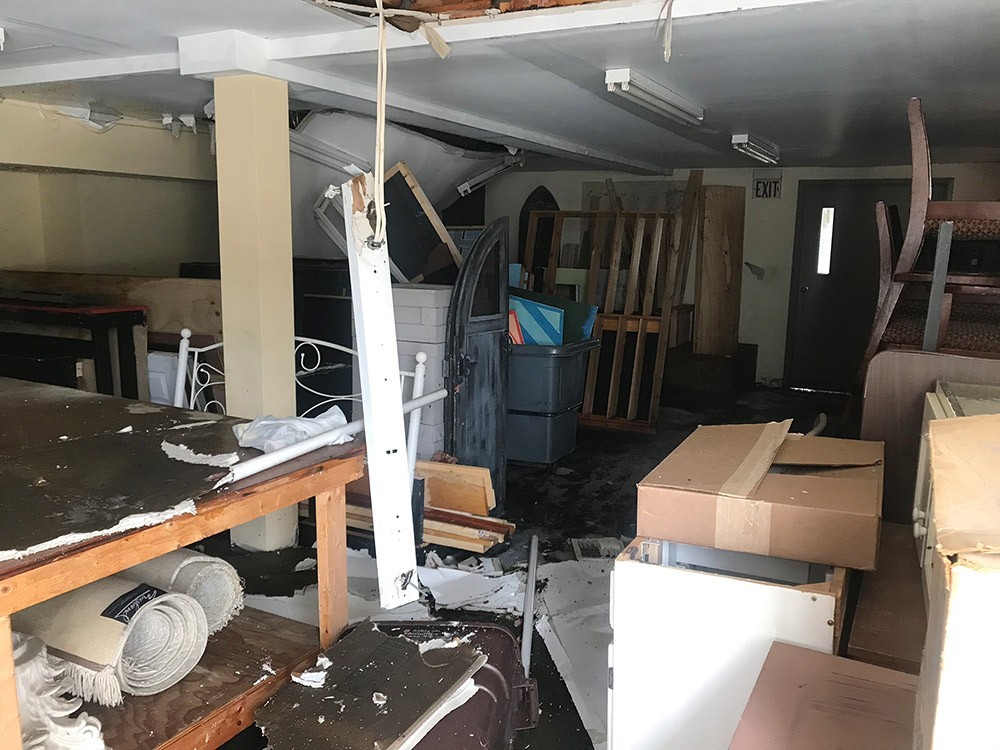 You might have seen the news of the fire in Stowe on March 30-31. In addition to housing several businesses, the basement of this building was the home to Stowe Theatre Guild's property storage.
All of our flats and platforms for building sets lived here — as well as our costumes and several props.
The building has been declared a total loss.
We do have insurance, but it will likely not be enough to cover the full amount of our losses. The fire itself did not burn in the theatre storage space, but the damage from water, fire-retardant chemicals, smoke and debris is extensive.
Some costumes may be saved. Many will not. And all of the sets and lumber will need to be replaced.
Donation-Matching Grant:
The Springer-Miller Family Foundation has offered to match donations to help Stowe Theatre Guild's recovery! Thanks to this generous grant, your contribution will effectively be doubled!

This offer is for straight donations (i.e. not Stage Door Supporters, sponsorships or ad purchases) for donations received between March 30 and the start of our season on June 12. The Springer-Miller Family Foundation will match up to $10,000.

Donate Online

To donate by check, send mail to:
Stowe Theatre Guild
P.O. Box 1381
Stowe, VT 05672
As a reminder, Stowe Theatre Guild is a 501(c)3 non-profit, so donations may be tax deductible.
Or, if you'd like some perks with your contribution and you haven't yet joined us as a Stage Door Supporter, now would be an excellent time to do so! You can do that here.
Thank you in advance for your support during this tough time. We look forward to bringing you a fantastic 2019 season!
Although this is a significant set-back for us, we have not for a moment considered cancelling or rescheduling any of our season. And we realized our audiences might not have known that.
All four shows will go on exactly as planned!
Godspell (June 12-29) • The Diary of Anne Frank (July 17-Aug. 3) • Mamma Mia! (Aug. 21-Sept. 7) • A Few Good Men (Sept. 25-Oct. 12)
Next Blog Post
We announced our 2020 Season at the 2019 Season Kick-Off Cabaret on May 18. Applications are now open for anyone who is interested in directing, music directing or choreographing! Our 2020 Season: A…