Gender Dynamics as a 'Time Capsule' in A Few Good Men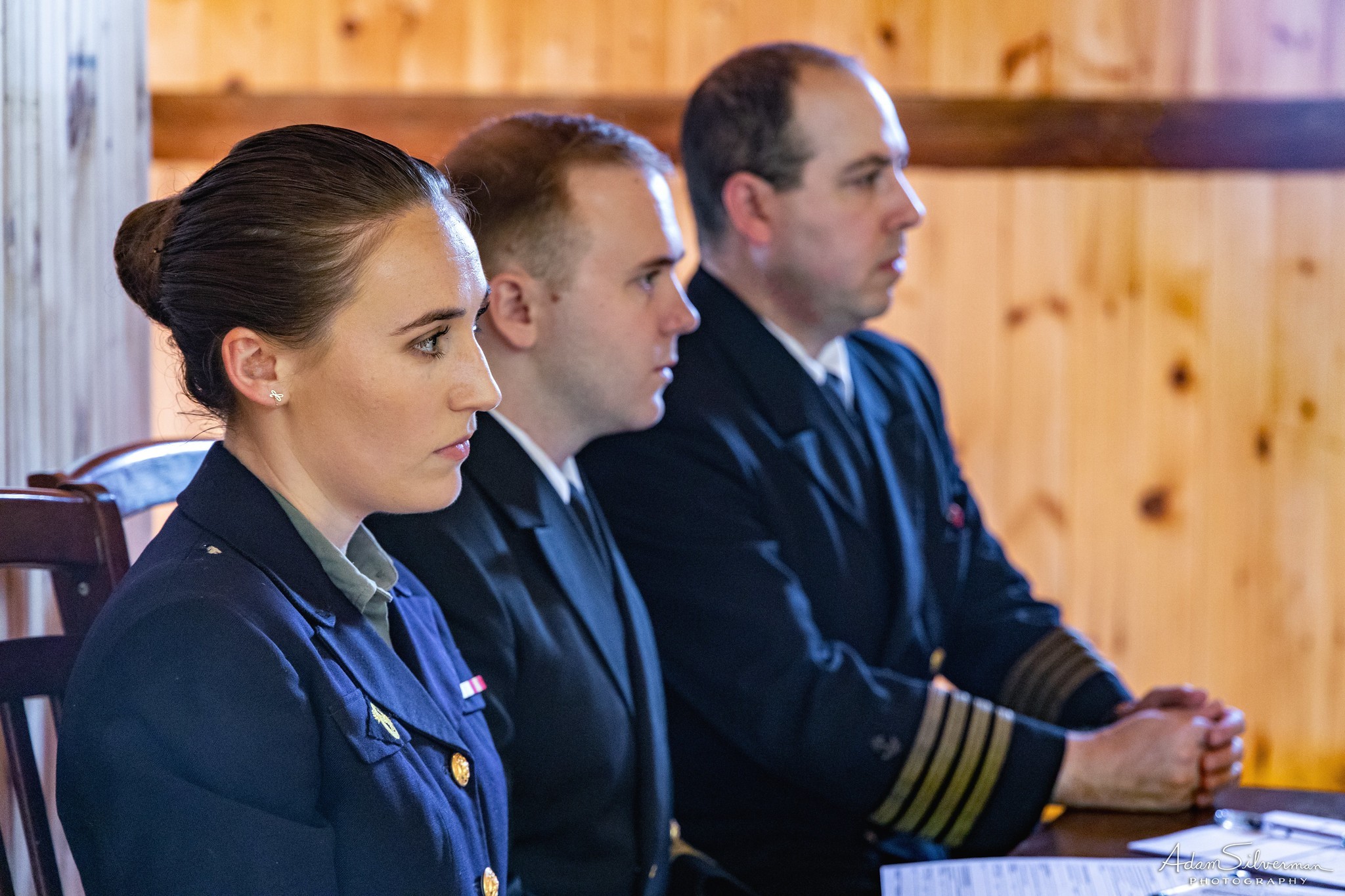 A Sign of the Times, A Few Good Men
by Judith Mathison, co-producer of A Few Good Men
"You can't handle the truth!"
Well, actually I can. As a woman who is co-producing A Few Good Men for Stowe Theatre Guild, I realize the sad truth is that playwright Aaron Sorkin put only one female role in this play; yet it speaks volumes for the time in which it was written.
In 1989, the #MeToo movement was 30 years from happening and the military hadn't made much progress in recruiting women. Since then there have been some (I say some) strides to address equality for the 16% who actively serve. For example, there is no pay gender gap — women and men are paid equally
according to rank. And, for the first time in the U.S armed forces history, a woman, Lt. General Laura Richardson, leads the largest command in the Army. Perhaps had Sorkin written this today, women would have more presence in the play.
Sorkin wrote truthfully in creating only one female character, Jo Galloway, serving as a military lawyer in his play. At a time when few women were serving, he managed to create in Jo a strong character, the voice of morality. She is portrayed as a woman who speaks her mind and doesn't back down, even when she's up against the male-dominated military.
Athena Furioni, who plays the role of Jo, shares "Jo is a Lt Commanding Officer, and has been in the military for several years and is constantly surrounded by men who are usually against her and overlook her because she is a woman. Jo pushes her way in that courtroom, she won't take no for an answer. Every time someone thinks they are one step ahead of her to get her off the case she gets around the 'step' and stands firm. Being up against all these 'top brass males' doesn't intimidate Jo."
Being up against all these 'top brass males' doesn't intimidate Jo.
— Athena Furioni (Lt. Commander Joanne Galloway)
Sorkin also gave this character a higher rank. As Furioni explains, "For one thing the defense lawyer assigned to the case is a Junior Grade, Jo has a higher rank and is equal to a lot of the men in the courtroom, the only difference — Jo is a woman."
With the creative freedom to cast as he wanted, director Alex Nicosia says, "There were several women who auditioned for the male roles in this play. But I wanted to keep it in a time capsule in terms of gender-specific casting because of the gender dynamics of the military in 1986, when
the story takes place."
"This was before Don't Ask Don't Tell and also before transgender rights and protection would've been available from our government," Nicosia explains.
The truth is that A Few Good Men is representative of the time in which it was written. The important question, 30 years later, is what have we done about it?
A Few Good Men at Stowe Theatre Guild will run Sept. 25-Oct. 12. Performances are Wednesdays through Saturdays at 7:30 p.m. at the Town Hall Theatre, upstairs in the Akeley Memorial Building at 67 Main St. in Stowe.
Next Blog Post
Anyone who has seen the movie or the staged musical know that the actress who plays Sophie is traditionally a blonde, caucasian woman. What about the dads? We imagine them to be portrayed by three caucasian, cis-gender men. But the question is, why?