Three New Members Join Board of Directors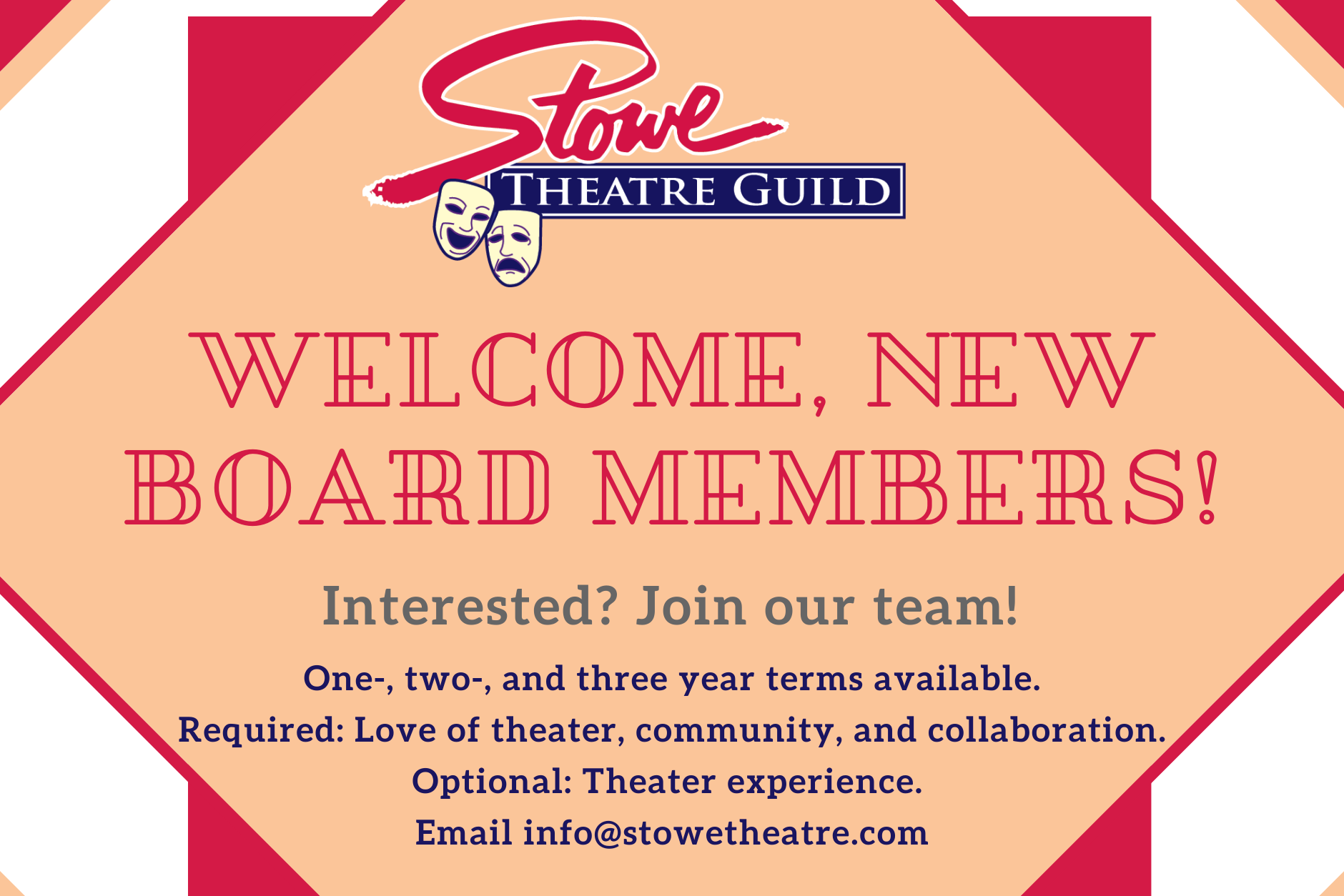 Stowe Theatre Guild is pleased to welcome three new members to its Board of Directors. Tom Barnes, Chiara Hollender and Peter Schmeekle were unanimously voted onto the Board at its monthly meeting in October.
Tom Barnes moved to Stowe from Florida twelve years ago, buying the Timberholm Inn. He has served on the boards of Stowe Vibrancy and Stowe Rotary Club, as well as chaired the 4th of July celebration and Main Street parade. He has since sold the Inn and currently manages the seasonal bus service at Stowe and Sugarbush Ski Resorts for Green Mountain Transit. Tom lives in Hyde Park with his wife.
Chiara Hollender lives in Burlington, where she is a theatre and documentary director/producer. Most recently, Chiara produced work for the DIY Network and Discovery Channel, and has worked for AMC Networks and Silent Crow arts in NYC. She has also worked with Full Circle Theater Collaborative, The New Group, and Flynn Arts.
Peter Schmeeckle, a professional musician, lives in Stowe and maintains a teaching practice running musical workshops from Stowe Music Center. He is an active drummer/percussionist with roots in the musical and theater scenes of Seattle and Los Angeles, dating back to 1984. Peter snowboards, composes, and plays chess professionally.
Stowe Theatre Guild is preparing for an amazing 2021 season with innovative initiatives and hopes to add a few more Board members over the coming months. For more information about joining this dynamic group, please contact info@stowetheatre.com
Next Blog Post
The 2020 season has been postponed until next year. All season tickets for 2020 will be honored in 2021.